High Availability Cloud Servers zonder grenzen.
Bent u opzoek naar een stabiele omgeving voor uw servers? Dan is onze High Availability omgeving precies waar u naar opzoek bent!
Onze High Availability omgeving is dubbel redundant uitgevoerd en levert een Fail-over waar u als gebruiker niks van merkt.
High Availability is in de omgang duurder dan een normale VPS-Server dit komt omdat alles High Availability is en dus ook meer kosten met zich mee brengt. Met de High Availability Cloud Servers kunt u zoveel servers als u wenst opstellen en ook zoveel resources als u wenst gebruiken.
Waarom een High Availability Cloud Server?
Een  High Availability Cloud Server biedt de mogelijkheid tot schaalbaarheid, u kunt klein beginnen en zonder problemen uitbreiden naar meer Cloud Server schijfruimte, Cloud Server processor kracht en Cloud Server intern geheugen. Dit alles is met een druk op de knop te realiseren door onze engineers.
High Availability (99,99% uptime)
De High Availability is opgebouwd zoals hiernaast is geschetst, bij het uitvallen van hardware van het VMware platform, wordt uw Cloud Server verschoven naar een andere front-end of back-end. Hiermee wordt in het hardware matige deel  van "single point of failure" voorzien, deze is nagenoeg uitgesloten.
Waar is een High Availability Cloud Server Server geschikt voor?
Het hosten van bedrijfskritsche applicaties
Het hosten van uw zware websites of bedrijfs-websites
Als Windows 2008/2012 Server
Als remote office server(remote desktop applicaties)
Als webdisk voor het opslaan van uw kantoorbestanden
Als webserver met Linux, Unix of Windows
Als hosting server of nameserver
Voor uw eigen ontwikkelde software of applicaties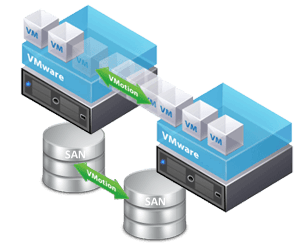 De High Availability Cloud Server kan ook worden toegepast voor grotere websites, fora en uiteraard voor het gebruik van webhosting in combinatie met DirectAdmin, Cpanel of Plesk control panelen. Tevens kan de High Availability Cloud Server dienen als front-end servers als u een niet redundant dedicated server platform nodig heeft voor uw projecten.
Uw (managed) High Availability Cloud Server met extra ondersteuning
Indien u behoefte heeft aan uitgebreide ondersteuning van onze technische mensen en wilt u dat onze systeembeheerders dag en nacht voor u klaar staan dan kunt u een overeenkomst voor managed hosting met ons aangaan. We spreken een SLA (service level agreement) met u af en zullen conform deze SLA elk probleem wat ontstaat in overleg met u oplossen.
Onze High Availability Cloud Servers zijn afgestemd op de behoefte van bedrijven met volledig op maat gesneden oplossingen. U kunt uiteraard kiezen voor een High Availability Cloud Server zonder verdere ondersteuning van onze techische mensen, u kunt ons altijd om advies vragen om een op maat gemaakte SLA op te stellen.
Kosten
| Product | Kosten |
| --- | --- |
| 1GB Ram | € 10,- p.mnd |
| 1 CPU Core (Processor Kern) | € 7,- p.mnd |
| 25 GB SAN-Storage SSD Disks NVME | € 8,50 p.mnd |
| Extra IPv4 adres | € 2,- p.mnd |
| Windows Standaard 2012 | € 20,- p.mnd |
| MSSQL Standaard 2012 | € 299,- p.mnd |
| MSSQL Webedition 2012 | € 30,- p.mnd |
| RDS Cal | € 7,- p.mnd |
| Office | € 18,- p.mnd |
| Back-up Licentie | € 8,50 p.mnd |
| Back-up ruimte per GB | € 0,60 pmnd |
| Windows server management op OS Niveau | € 95,- p.mnd |
| Standaard ssl certificate | € 35,- p.mnd |
| Linux OS (CentOS 5-6, Ubuntu, Fedora etc.) | Gratis |
| Webhosting control panel - Direct Admin, cPanel etc. | Vanaf € 6.50,- p.mnd |